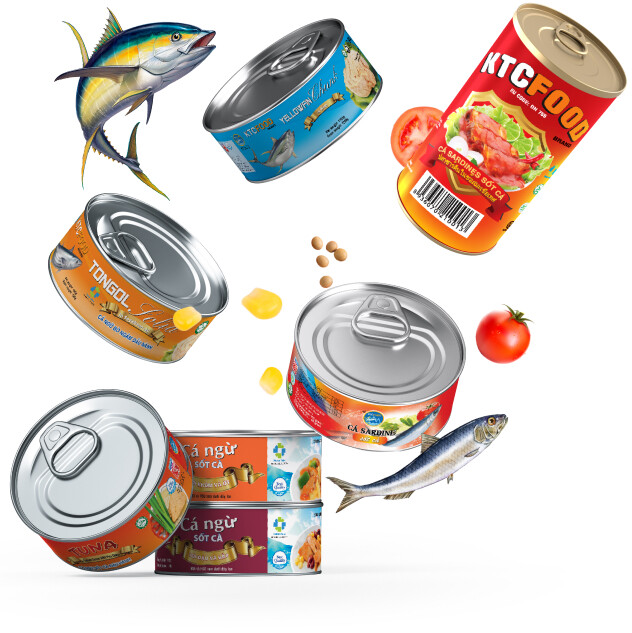 About us,


KTC CANNED FOODSTUFF MANUFACTORY (KTCFOOD)

KTCFOOD specializes in providing products of tuna in oil, in brine, in dressing sauce, in Mexico sauce, in sweet sauce. Mackerel/Sardine in tomato sauce and many other canned seafood products according to customers's requests

KTCFOOD is among the top 10 leading canned food factories for exporting in Vietnam.

KTCFOOD's products have been certified as National Brand by the Ministry of Industry and Trade twice in a row 2020 – 2022 and 2022 -2024.

Products are distributed in many markets.
Quality process according to standards.
Prime location in the Tac Cau fishing port, Rach Gia, Kien Giang
Direct and abundant supply of raw materials
LEARN MORE
Quick statistics


notable figures
countries and territories
We provide


quality products
With a desire for innovation, creativity, and sustainability, KTCFOOD always brings diverse canned products to the market that are suitable for many different cuisines around the world.
Tất cả sản phẩm
Why


should you choose KTCFOOD?
With many years of experience, along with a range of quality products that have been certified all over the world, KTCFOOD confidently provides customers with products that meet strict quality standards of many large markets.
Fresh and abundant source of raw materials
Our factory is located in the large port of Tac Cau, with a steady supply of fresh and abundant raw materials from a system of reputable suppliers.

Strict process control
Our factory applies the HACCP quality management program to European standards (EU Code: DH 755) and has been certified by FDA, KOSHER, HALAL, DOLPHIN SAFE, IFS, ISO 22000:2018

Modern machinery and equipment
Our factory is equipped with modern and automated machinery and equipment from Spain and Thailand.
contact us
Always stay updated


with our news
ALL NEWS